Storyclock Research Log
Spider-Man: Into The Spider-Verse
By Seth Worley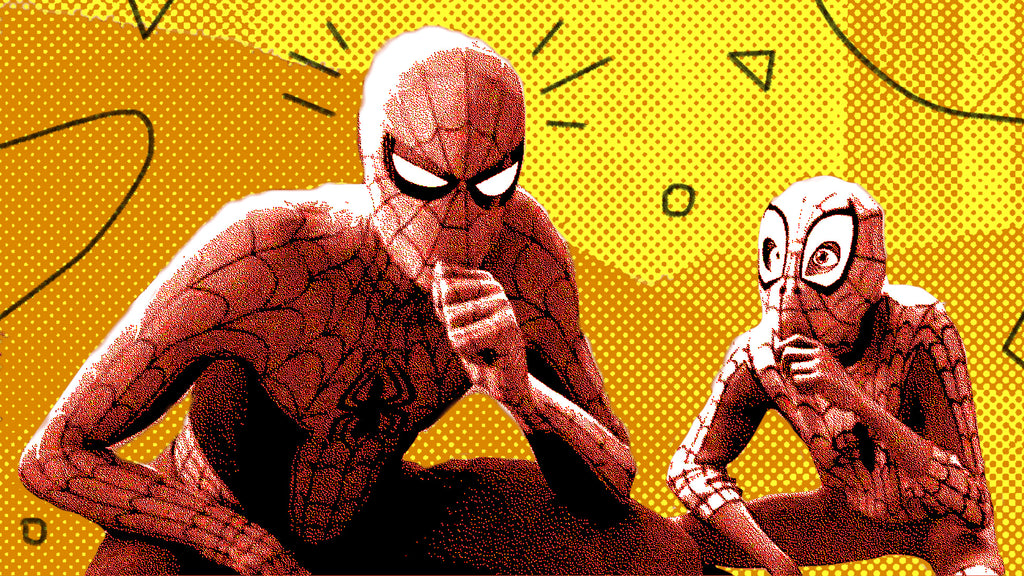 Today's Storyclock Research Log is SPIDER-MAN: INTO THE SPIDER-VERSE. As usual, we've watched the movie and used the Storyclock Notebook to visualize the film's structure in the form of a clock.
If you follow us on Twitter, you may have seen writer Phil Lord retweet our Storyclock Research Log for THE LEGO MOVIE, which ended up starting a chain of events that led to some cool insight into the writing process for SPIDER-VERSE. Stick with us, because it's interesting.
It started with Lord's retweet, and this response from SPIDER-VERSE co-director/living legend Peter Ramsey:
That's just like the one we had for Spiderverse what the

— Peter Ramsey (@pramsey342) March 21, 2020
...next came this comment from Lord:
There was a beautiful mind style whiteboard that only made sense to me

— Phil Lord is staying home (@philiplord) March 21, 2020
...to which we shamelessly responded:
Also is there a picture of the whiteboard asking for a million friends

— Plot Devices™️ (@PlotDevicesCo) March 21, 2020
And lo and behold, the filmmaking Gods (or, the Lord) gifted us with this gloriousness:
So here is the "storywheel" of @SpiderVerse . We did a big shakeup of the story less than a year from release and we had to figure out how to reshape sequences we had already boarded and animated and fold them in with new stuff. Oh and we rebroke the whole third act. pic.twitter.com/NYPcaPcXfH

— Phil Lord is staying home (@philiplord) March 22, 2020
This is not a flex. This is embarrassing that we hadn't figured it out this late in the process. It's more to illustrate that it IS a process. Always. pic.twitter.com/9JvSP4X43b

— Phil Lord is staying home (@philiplord) March 22, 2020
People often assume these Storyclock Research Logs are being provided as proof of some kind of master plan when, in reality, (in the words of another one of our heroes, Adam Savage) ALL 👏 CREATION 👏 IS 👏 ITERATION. We provide the research clocks as inspiration to help you get through whatever draft is consuming your life and soul at the moment. Just keep your chin up and have hope that we're all making this up as we go.
---